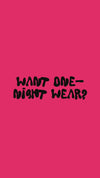 Trust Issues Rubber Base Coat
After nearly 2 years of brainstorming deep thought and product development brainstorming (if you smelled wood burning - that was me ), here it is, a product I'm beyond proud of, Trust Issues.
Trust Issues Basics Lowdown:
Apply one coat of Trust Issues to your natural nail and allow to air-dry. At this point, it's business as usual. Apply your Pressies with the included nail glue. Trust Issues will act as a barrier between the natural nail and the glue, which allows for one day/night wear and the easiest peel-off removal with zero damage to your natural nails.
Trust Issues Hot tip :
Apply one THIN coat of Trust Issues on the back of your Pressies as well as your natural nail. This will make the clean up off the back of your Pressies ultra easy. No more buffing excess, built up glue off your Pressies.
*one bottle of Trust Issues has approximately 50 applications , yes that means 50 full Pressie swaps!